CE Conformity (Specifications)
First a point about European standards or ENs. These are, in principle, voluntary standards and in the vast majority of cases there is no legal duty to comply with them.
CE marking is a legal declaration that a product complies with a European new approach directive or regulation. Use of the mark is strictly controlled and it is an offence to use it improperly. Placing the mark on a product which is not covered by such a directive is a criminal offence, as is failing to apply the mark when it is required. As I pointed out in my earlier e-mail, many of the products advertised on your web site are not subject to CE marking because they are not covered by any CE marking directives.
Some of these European standards have been adopted by the European Commission as "harmonised" standards. Compliance with these particular standards creates a presumption that the product complies, wholly or in part, with one of the new approach directives. Even then, under most directives, compliance with a harmonised standard is still voluntary as there is generally an alternative method to demonstrate compliance without using the standard. The Machinery Directive is one of these directives and allows risk assessments to be carried out as an alternative to complying with the harmonised European standards.
On 1st July 2013 the Construction Products Regulation (CPR) comes into force. This requires CE marking of any construction product for which a harmonised European standard has been written. One construction product for which this is the case is a lock for installation on a fire-resisting door (EN 12209). Another such standard is EN 13241-1 for industrial doors and garage doors. Any industrial door produced from 1st July 2013 will have to carry the CE mark. In the case of the CPR, the only way of complying is to comply with the relevant harmonised standard, so it will be necessary for door manufacturers to comply with ten specific requirements listed in Annex ZA.1 of EN 13241-1. None of these requirements relates to locks. There are, however, some door/shutter components for which door manufacturers may request test reports to help them comply with the law. Examples include:
Laths and end-locks in relation to wind resistance of external doors and shutters;
Drive and control systems in relation to safe operating forces on powered doors;
Safety brakes in relation to anti-drop performance of vertical doors;
Insulated panels in relation to thermal performance (U-value) of a sectional door.
Note that even these components cannot themselves be CE marked under CPR; the CE mark can only be applied to the complete product (the door in this case). All the component supplier can do is supply test reports written by a notified test laboratory, which, provided written permission has been obtained from the test sponsor, can be used by a manufacturer as part of his technical file to demonstrate compliance with the CPR. The component supplier is not, however, compelled to provide such reports.
I hope that this will help to clarify responsibility for CE marking. The important thing to realise is that a CE mark is a specific legal declaration relating to compliance with one or more of about 24 product directives (with subjects ranging from medical devices to toys). It is not a general indication that this product is of good quality or even that it complies with some standard or other.
Regards
Mario
Please find a letter below from Michael Skelding from the Door & Hardware Federation

Dear Mario
If ILS is solely a distributor of products manufactured within the EU, there is no obligation to apply the CE mark; any necessary CE marking is the responsibility of the original manufacturer.
The only circumstances I can think of in which a distributor could become responsible for CE marking is if they:
import products from outside the EU
sell someone else's products under their own (ILS) brand
change the intended use of a product manufactured by someone else, modify it or combine it with other components to be sold on as a new product or kit
In all these cases they would have some work to do to justify the CE mark; it's not just a case of putting a CE sticker on the box!
It is important to note that many of the products shown on the ILS web site are not subject to CE marking anyway; examples of these would be padlocks, rolling shutter locks and cylinders. Locks falling within the scope of EN 12209 (such as mortice locks) are subject to CE marking ONLY if they are sold as being suitable for use on fire/smoke-resisting doors.
Hope this helps.
Michael
Italian Locking Systems (UK) Ltd ISO Certificate - ISO CERTIFICATE BS EN ISO 9001:2008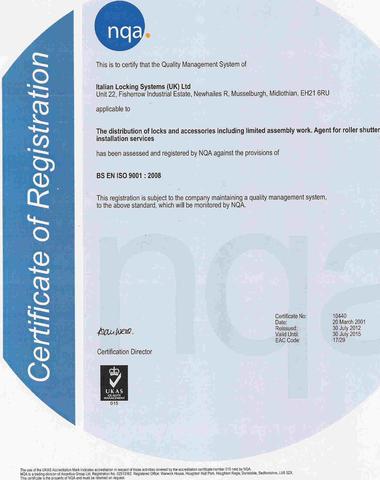 SaveSave